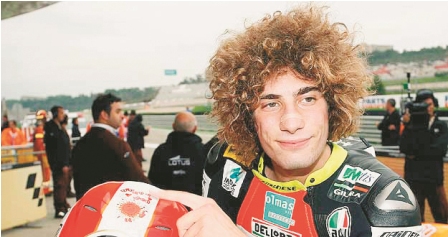 Well guys, I'm going to speak about Marco Simoncelli. All of us know about his accident and I think it's a great topic to speal here.
He was born in 1987 in Italy and
everyone knows he became a great racer when he was very young. He was in 250cc before being in MotoGP.
We though he would win the competition in some years, but an accident happened.



Marco Simoncelli died on 23 of October with only 24 years old in a race in Malasya. He was so young... People think because he had so much hair and his helmet was too big for him and if he had less hair and a smaller helmet, he would survive.
This was a tragic accident, everyone remember him the first days and he was in the television all of the time but when the time has passed, how many of you remember his career?
How many races did he win?


So, I want you to put a famous person which has died recently. Don't repeat