During the zenith of the Russian Empire, the House of Fabergé delighted the Tsar of Russia with over 65 known jewelled eggs made by precious metals and precious stones, however, only 57 eggs have survived to the present day. The first egg or "First Hen Egg" was made in 1885, as a present of Peter Carl Fabergé to the Tsar of Russia (Alexander III) and he liked it so much that demanded the jeweler to create every Easter (the most important holiday in the orthodox Russia) an egg for his wife, the tsarina. Until 1917 and the destruction of the Russian Empire, these jewels had a lot of success and the House of Fabergé presented eggs to the aristocracy of his country of origin.
The "Rothschild Fabergé Egg", costing $18 million is the most expensive clock ever made and the most expensive sold Fabergé egg. Only very rich collector have the money and the power to have these jewels.
Nowadays, the biggest collection of Fabergé Eggs is Forbes' one, with 10 eggs which easily reach over $20 million and the prestige of been ones of the most wonderful jewels of history. There are loads of them but, I couldn't put many because of the speed of the blog.
Your task will be to investigate about one egg, looking for it in Google.com or in Wikipedia. Here, you have an example:
Name: Peacock Fabergé Egg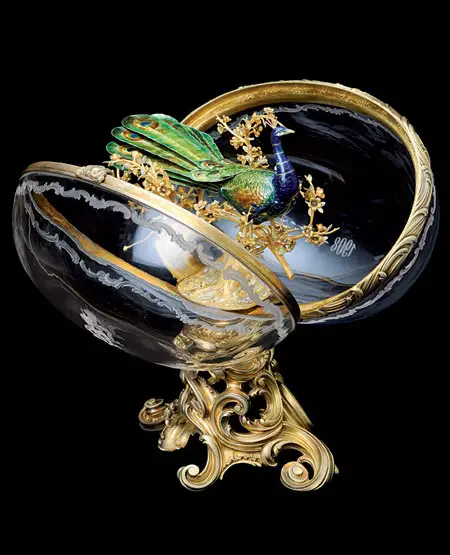 Description: It's an egg demanded by Nicholas II of Russia and he gave it to his mother, Maria Feodorovna, the Dowager Empress of Russia. It was first housed in the Winter Palace and now, you can find it in the Hermitage Museum, in St Petesbourg.